VIHTAVUORI TEAM MEMBER
Tony Tello
USA
Discipline
HP and SB Rifle Silhouette and Cowboy Lever Action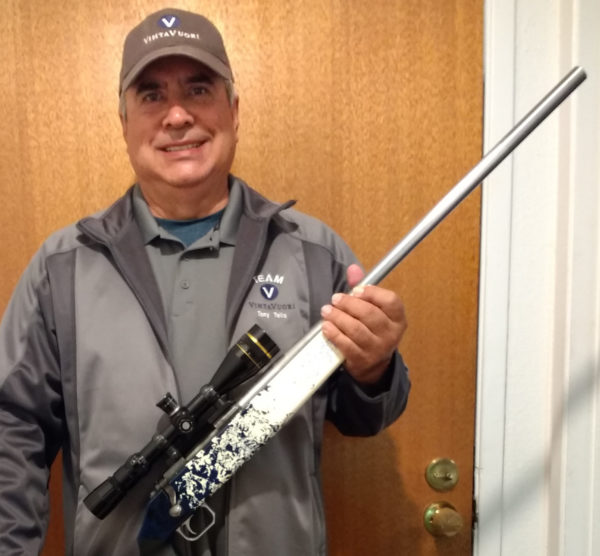 ---
"If you want to excel, stick with it!"
Tony Tello, Rifle Silhouette and Cowboy Lever Action shooter
Tony Tello has been a familiar face in silhouette shooting for a long time and calls it "a lifetime passion". He started shooting competitively at 27 years old in 1978, and has since won numerous state, national and international championships within high power and smallbore silhouette rifle disciplines as well as Cowboy lever action shooting. Tony's favorite is High Power rifle silhouette shooting, although he gets in a lot of smallbore silhouette and Cowboy Action as well.
Even though he's been around and successful for a very long time, Tony says there's always room for improvement: "Shooting is always a challenge, but I'm always trying to do the best I can. It doesn't matter how good a score you get, you always feel like you could be better. And that's what keeps me coming back." When it comes to advice for younger shooters, Tony says proper training is key. "It takes focus and ambition, and if you want to excel, stick with it!"
When it comes to Vihtavuori powders, Tony has a lot of favorites: N130, N133, N135, N140 and N150. "I love them all!" I guess we have to take his word for it.
Favorite powder
Latest Results
Jul 2018 – Nra Nationals – National – Lever Action – 1st place Master
Competition highlights
2017
Arizona State HP rifle silhouette championships – 2nd AAA Standard Rifle, 1st Master Hunting Rifle and High Senior Hunting Rifle
California CRPA HP State Championships – 1st AAA in Standard Rifle and 3rd Master in Hunting Rifle
2016
CA State Cowboy SB Lever Action Rifle Silhouette Championships – 1st Master
2015
AZ State Cowboy Lever Action Silhouette Championships – High Senior
NRA Cowboy Lever Action Rifle Silhouette Championships – 3rd Master/1st Team
2013
California State Championships Cowboy Lever Action Rifle Silhouette – 1st Place
2012 & 2011
National Champion, NRA Cowboy lever action silhouette SB
Several gold medals in NRA Rifle Silhouette Hunting Rifle National Championships in USA and in Canada as well as in International Championships