VIHTAVUORI TEAM MEMBER
Bruce Piatt
USA
Discipline
Action Pistol, Tactical 3-Gun, USPSA/IPSC, Steel Challenge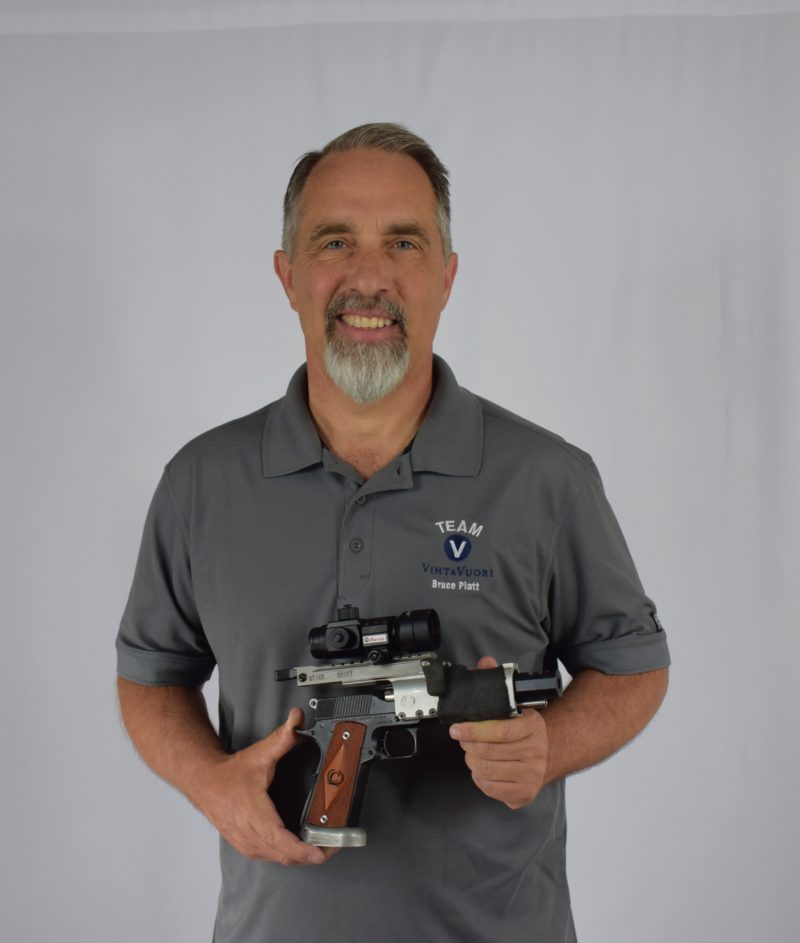 ---
Bruce Piatt, ISPC, 3-gun and Action Pistol shooter
Bruce Piatt is a true multi talent within shooting, and his disciplines included Action Pistol, Tactical 3-Gun, USPSA/IPSC, Steel Challenge and Sportsman's Team Challenge. He is also a gunsmithing instructor.
Bruce was born in a typical 1961 suburban family, the youngest of 4 boys. Living in New Jersey, 20 miles north of New York City, Bruce took an interest in his grandfather's guns, yet had no land to shoot. Sometime around age 10 or 11, he began asking his father to take him hunting and shooting. Bruce read everything he could on the subject, idolizing the shooting heroes of the time, Olympic Champion Lones Wigger, National Bullseye Champion Bill Blankenship and Jim Clark Sr. His dad told him, "If you're going to shoot, you're going to shoot safely" and enrolled Bruce in the NRA 50ft. Small Bore Junior's Program at a local indoor police range. Rising thru the ranks, the interest in girls kept him 5 targets short of qualifying for the Distinguished Expert rank before he was too old for the juniors.
Bruce's shooting remained an on again off again interest, but perked up in the mid 80's when IPSC shooting hit the scene. Attending his first IPSC match, that yearning for perfection took hold again. Bruce traveled to local NJ & NY area matches, utilizing the limited vacation days allotted at the hydraulic mechanics job he had at the time. In 1986, Bruce landed his dream job, graduating from the New Jersey State Police Academy and becoming a police officer in the town he grew up in. The flexible work schedule and greater vacation time allowed Bruce to follow his childhood dream of traveling the country, shooting every match he could.
Early success didn't go unrecognized and in 1989, Gary Smith at Caspian Arms took Bruce on as a sponsored shooter. Since then Bruce has grown into a successful Professional Sponsored Shooter, a Police Firearms Instructor, and a determined competitor in NRA Action, Tactical 3-Gun, Sportsman Team Challenge, Masters, or whatever shooting game he sets his mind to.