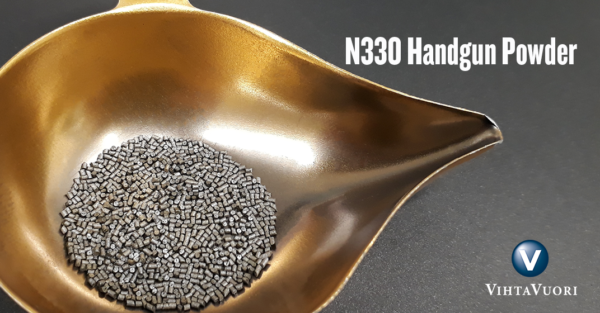 N330 Handgun powder
06.04.2018
The Vihtavuori N330 is a versatile, medium burning N300-series powder. This handgun powder provides a wide range of latitude for the handgun reloader, serving well for all kinds of shooting disciplines from light target to heavier high-velocity loadings. The grain length is 1,0 mm and the diameter is 0,8 mm. It's suitable for an exceptionally broad range of sport shooting applications, especially designed for 9 mm Luger but also suitable for eg. .38 Special, .40 S&W, .44 S&W Special and .45 Colt.
Vihtavuori N330 is available in 0,5 kg containers and in the USA in 1 lbs and 4 lbs containers. All available reloading data is available via the N330 powder page!
Reloading tip by our Pros
If you are looking for a mild and accurate load for your 9 mm Luger, try N330 with a 8,0 g / 123 gr bullet.