VIHTAVUORI TEAM MEMBER
Gene "Evil Roy" Pearcey
USA
Discipline
Cowboy Action Shooting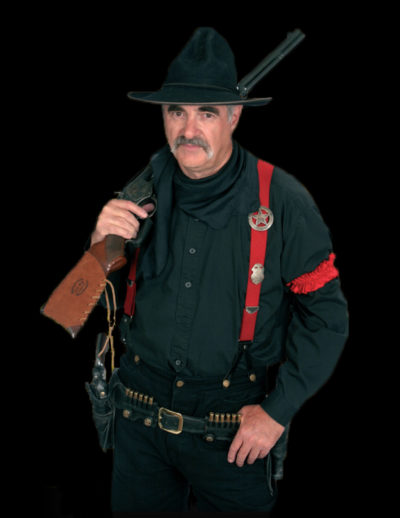 ---
"I've been using that powder for years, and I haven't cleaned my powder measure one time – not one single time"
Evil Roy, Cowboy Action shooting legend
Anyone who has heard of Cowboy Action Shooting has probably heard of Gene Pearcey, a.k.a. Evil Roy. Gene started his CAS-career as late as in the nineties with his wife Karen, a.k.a. Wicked Felina, but is already a living legend and known as one of the great single-action shooters.
Gene started out in competitive shooting pretty late, but soon found himself doing nothing but. "Before Cowboy Action Shooting took over, I raced motorcycles and did martial arts. When I started doing really well in CAS, all I did was practice, because that was really all I had time for. Nowadays I also do a lot of Wild Bunch, which is at the moment my favorite." In Cowboy Action Shooting, or CAS for short, competitors use firearms typical of the mid-to-late 19th century and dress accordingly. The firearms used are single-action revolvers, pistol caliber lever-action rifles and double-barreled shotguns or pump-action shotguns. Wild Bunch shooting is similar to CAS, although there are also clear differences. In Wild Bunch, competitors use 1911 pistols in .45 ACP, lever-action rifles and model 1897 pump-action shotguns.
So what is the secret to becoming a good Cowboy Action Shooter?  "When I was practicing real hard, in the last 4-5 of my most active competition years, it wasn't unusual for me to shoot 300 rounds a day, five days a week. I mean, the only way to get really good is to fire a lot of ammo – and that's a LOT." Evil Roy has been using Vihtavuori powders for years and years. "I've used Vihtavuori powder for several years in all my Cowboy Action firearms. It is very clean burning, very consistent in velocity and has soft recoil. I've been using the N320 powder for quite a long time now, and it's definitely my favorite powder. I use it for .45 ACP, .45 Colt, 9 mm and .38 Special, so I use it for a lot of things. And it just occurred to me some time ago, that I've been using that powder for years, and I haven't cleaned my powder measure one time – not one single time."
Favorite powder
Reloading tip
"I've been using the N320 powder for quite a long time now, and it's definitely my favourite powder. I use it for .45 ACP, .45 Colt, 9 mm and .38 Special, so I use it for a lot of things."
Latest Results
Competition highlights
Reader's Choice True West Magazine "Best Living Single Action Shooter"
Eight SASS World Championships, including Top Overall
Ten SASS National Championships including Top Overall
Overall World Champion Wild Bunch
Overall National Champion Wild Bunch
SASS Hall of Fame
SASS Sprit of the Game Award