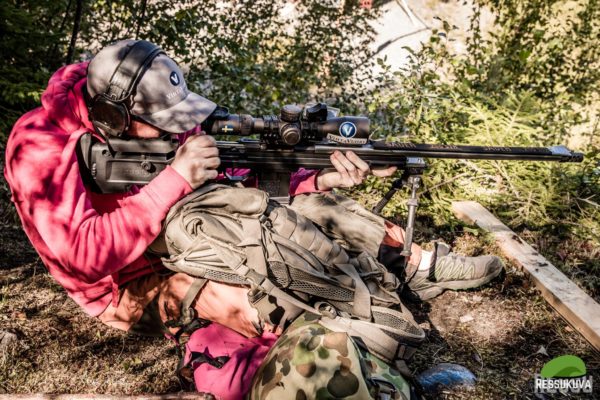 PRS match report
22.08.2018
by Team Vihtavuori member Johan Eriksson
"Last weekend me and my friend Oscar Järvi went to Vaasa in Finland to shoot the first PRS type match held in Finland and arranged by the local club Pohta.
As it was the first PRS type match in Finland, we thought that it would be an easy match with large targets and a lot of time. It turned out we were wrong. Distances ranged from 150 m /160 yds to 460 m /500 yds and steel targets sizing from 10×10 cm / 3.9×3.9 in. up to 20×20 cm / 7.9×7.9 in., and the time limits were on the short side. To that, you can add switchy winds with gusts up to 15 ms /6.7 mph.
The match had six stages with a total round count of 60 rounds, very well made props including a plywood helicopter and a shingled roof. One could tell that the crew arranging the competition had great experience in organizing sniper competitions, as everything was very smooth and well planned.
Along with 24 other shooters, from all over Finland, we struggled with the challenging stages and the wind but luckily, for me my 6.5×47 L load with VihtaVuori N150 worked flawlessly, my misses were due to incorrect wind calls and shooter errors. At the end of the competition, I ended up winning and Oscar came in at second place.
I cross my fingers that there will be more PRS competitions in Finland and that the Pohta crew decides to join www.vikingsrifleseries.com and arrange an even larger competition next time."
Congrats for the win Johan!
Photo by Ressukuva. More pictures on the Facebook page of the local voluntary defence training association and on the Pohta Facebook page.